Experience Japanese Technique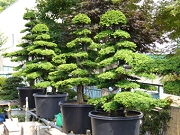 We produce and sell well-designed potted plants and garden plants and Chabohiba is the main product of ours. Also we are very welcome orders from all over the world.
Although exporting plants requires several conditions to clear (such as extermination of harmful insects and strict soil management) , we are practicing exact production management which enabled to pass the examination.